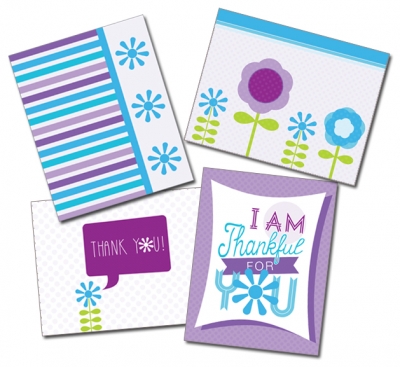 Description
New and Updated.
Adorable art on these notecards.
These Hyster Sisters Notecards are perfect to send as "thank you" notes or as general greetings while you are "house bound".
Details:Four different designs, 8 cards per package with Aqua Blue envelopes. Blank inside.
Product Reviews
Login
or
Register
to write a review.
Reviewed by Barbfitz
04/24/2016 - 10:07:30 AM
Fast Delivery
I didn't want to wait until I was physically able to shop for thank you cards to send to friends and family who provided much needed support after my hysterectomy and I didn't want to wait a long time to receive them through the mail. Since going to the mall was definitely not an option, I ordered the cards and hoped I would get them in a reasonable amount of time. I was pleasantly surprised - I received the cards in two days! The were shipped PRIORITY mail. I was so happy to get them so I could get started on my thank yous. One more thank you to HysterSisters for being there to answer questions after my surgery. What a wonderful website. I am truly grateful for your knowledgeable support
09/22/2015 - 07:37:34 PM
These cards are adorable and fit the bill to send to friends and family that supported and helped during recovery!
09/22/2015 - 07:37:33 PM
I used these cards to send notes to my doctor's office, to my favorite nurse and to my friends who sent flowers and brought food. There was even enough cards so I could send a "thank you" to my best friend who vaccumed for me.
09/22/2015 - 07:37:33 PM
My favorite website on greeting cards? What could be better? Lovely artwork that makes it fun to write 'thank you' notes.
09/22/2015 - 07:37:33 PM
Brilliant art once again! Thanks Hyster Sisters for putting it all together and giving us great merchandise
09/22/2015 - 07:37:33 PM
I love the notecards and need more! They are so much fun to write those boring thank yous.
You may also like...